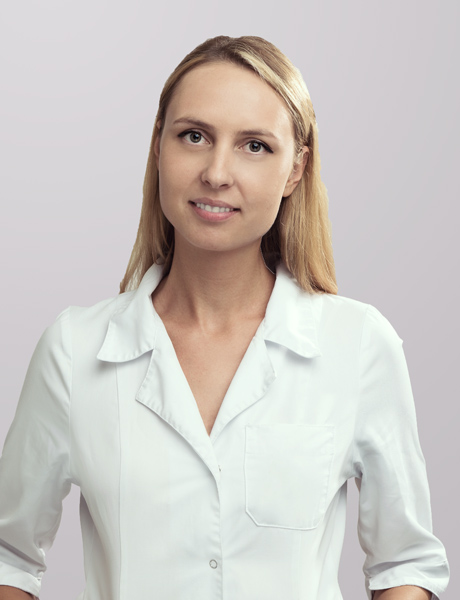 since 2013
professional experience
18 000+
consultations since the start of clinical practice
Attention: This doctor is currently unavailable for medical consultations. Please choose another doctor in this specialty HERE
Dr Selickaja diagnoses and treats all rheumatic disorders; she performs joint aspiration and ultrasound of the knee.
Dr Selickaja is interested in differential diagnosis of inflammatory myopathy (myositis). She has worked in the myositis research group in Stockholm. She has competed successfully for research residencies and opportunities to deliver her reports at international events. She completed 6-month residency in the Rheumatology Department in Stockholm, Sweden. Dr Selickaja has been a PhD student since 2016. In 2018, Dr Selickaja won the Lithuanian Research Council scholarship for her achievements in the field of research and the EU competition for professional development in research residency.
Dr Selickaja has published 10 scientific articles in the field of rheumatology. She is a member of the Lithuanian and European professional bodies.
Services
Dr Selickaja diagnoses and treats the following illnesses
Rheumatoid arthritis
Osteoporosis
Osteoarthritis
Osteochondrosis
Spondylosis
Fibromyalgia
Ankylosing spondylitis (Bechterew's disease)
Psoriatic arthritis
Reactive arthritis
Gout (podagra)
Enteropathic arthropathies
Septic arthritis
Sjögren syndrome
Erythema nodosum
Systemic lupus erythematosus
Systemic sclerosis (scleroderma)
Dermatomyositis
Vasculitis
Tests and procedures most frequently ordered or performed
Blood tests for infection
Blood tests for osteoporosis
Magnetic resonance tomography (MRT)
Computed tomography (CT)
X-ray
Joint ultrasound
Platelet rich plasma (PRP) and hyaluronic acid injections
Patients about doctor
Beata Kvaraciejute
An excellent professional, young physician. Very thorough consultation. We will be pleased to come next time. I would highly recommend the doctor.